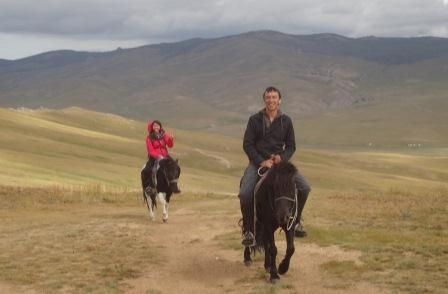 Dates : from the 3rd to 12th of September 2012
Participants : Bérengère and Maurice
Guides : Tsooj, Nathalie and Naraa. Jagaa for the horse trip.
Sites visited :
- Orkhon Valley, UNESCO classified
- Karakorum, its museum and the Erdene Zuu monastery (1585)
- Tovhon Monastery (1653, created for Zanabazar)
- Ulaan Tsutgalaan Waterfalls
- Tsenher hotsprings
Google Map (done with GPS Garmin) - click here to zoom out
Detailed activities :
- 400 km by car from UB to Karakorum, stopped by the sand dunes of Hogno Han natural parc.
- Visit of Karakorum museum and Erdene Zuu monastery
- Orhon Valley, the Tovhon monastery, the Orhon waterfalls (Ulaan Tsutgalaan) on horse. 6 days.
- From Orhon to Tsenher hotsprings by car. Hot bath in Tsenher.
- Back to UB by car.
Particularities :
The trip was part of Bérengère and Maurice's honeymoon. They will probably never forget the night in Jagaa's ger :=)